Gaari – Taxi Booking App
Gaari – Taxi Booking App an application used to order taxis online via smartphone. this application will make it easier for you to take you anywhere according to your destination.
Gaari – Taxi Booking App, Moto Gari is a corporate transportation company specializing in taxi services, car rentals, tours, and safaris. We offer custom solutions to companies of all sizes, tailored to meet their specific needs.
At Moto Gari, we believe in personalizing our services for each customer. Our packages are designed to cater to individual requirements and preferences. With the transport industry constantly evolving, we stay up to date with the latest trends to provide our clients with the best advice.
We are dedicated to delivering cost-effective and efficient transportation solutions, always within budget and on schedule.
Gaari – Taxi Booking App Service
1. Car Hire
At Gaari – Taxi Booking App, we offer daily, weekly, and monthly corporate car rental services, with options for self-driving or chauffeur-driven vehicles.
We are committed to delivering clean and dependable vehicles with every order. Our fleet is among the newest and best-maintained in Kenya, and we take great pride in it.
For added peace of mind, our vehicles are equipped with GPRS/GSM tracking devices with coverage throughout the region and nationwide AA of Kenya coverage. This ensures that in the event of any emergency, assistance is never far away.
2. Corporate Taxi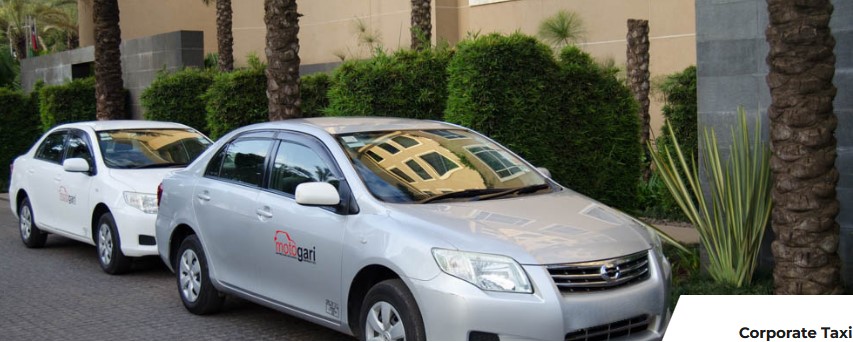 Gaari – Taxi Booking App we currently offer the following value add services
-.Experienced and uniformed drivers
-.World class service to our esteemed clients
-.24 hour manned control centre
-.Real time tracking
-.Various vehicle models and makes
Our drivers are experienced and well trained, ensuring that we give you service that is personalized but always professional.
3. Shift Transport
At Gaari – Taxi Booking App, we provide shift transportation services for medium and large corporate organizations. Our door-to-door service guarantees prompt and reliable service.
We place a strong emphasis on the safety of our staff, particularly during late-night and early-morning shifts, ensuring the security of all employees, no matter their route.
We have a fleet of executive shuttles, including 5-seater, 9-seater, 18-seater, and 25-seater vehicles, to offer this service.
4. VIP Transport
VIP transportation is a key focus for Moto Gari Limited.
Our goal is to deliver exceptional customer service that prioritizes safety, comfort, and dependability.
We achieve this by offering each client the most luxurious and trustworthy transportation available. Our professional drivers undergo thorough screening and training and are equipped with the necessary tools to ensure top-notch service.
For our valued clients, let us handle your transportation needs while you relax and avoid the stress of traffic, parking, and daily transfers.
Upon arrival, our driver will assist with your luggage and safely escort you to your final destination.
Benefits Gaari – Taxi Booking App
The Gaari – Taxi Booking App provides several benefits for users:
Convenience: With the app, users can easily book a taxi from their smartphone without the need to call or hail a taxi on the street.
Speed: The app eliminates the wait time for a taxi, as users can book and track their ride in real-time.
Reliability: The app allows users to track their taxi en route to their pickup location, ensuring they know exactly when their ride will arrive.
Safety: The app provides users with the driver's name, photo, and vehicle details, ensuring a safe and secure ride.
Cost-effectiveness: The app provides transparent pricing and eliminates the need to haggle with the driver over the fare.
Customization: Users can choose from a variety of ride options and payment methods, making their ride experience tailored to their needs.
Ease of use: The app has a user-friendly interface and simple booking process, making it easy for users to book a ride quickly and easily.
Download Gaari – Taxi Booking App
The Gaari – taxi Booking App can be downloaded on both Android and iOS devices. Here's how you can download the app:
Android: Go to the Google Play Store on your Android device and search for "Gaari – taxi Booking App." Click on the app, and then click on the "Install" button. The app will be downloaded and installed on your device.
iOS: Go to the App Store on your iOS device and search for "Gaari – taxi Booking App." Click on the app, and then click on the "Get" button. The app will be downloaded and installed on your device.
Once the app is installed, you can sign up or log in and start booking your rides.