Do you ever experience unexpected health issues outside of your doctor's office hours? With Livi app, you can receive medical attention from the comfort of your own home through a video consultation with a licensed doctor. In this article, we'll discuss the benefits of using the Livi for your medical needs and how it provides a convenient solution for healthcare.
What is Livi App and How Does it Work?
Livi app is a telemedicine platform that allows patients to connect with licensed doctors through video consultations. The app is available on both iOS and Android devices and can be downloaded for free. To start a consultation, simply book a video appointment, enter your symptoms, and a doctor will be with you in no time. With Livi, you can receive medical care at any time, from anywhere.
The Advantages of Using Livi App
Immediate medical attention: With Livi app, you can receive medical care quickly and easily, without having to leave your home. This can be especially helpful for those with mobility issues or who live in remote areas.
Flexible scheduling: Livi  offers flexible scheduling options, allowing you to book an appointment at a time that is convenient for you.
No more wait times: With Livi , you can avoid long wait times at the doctor's office or in the emergency room.
Reduced costs: With Livi , you can save money on transportation costs and avoid paying for expensive emergency room visits.
Easy access to medical records: Livi  stores all of your medical records in one place, making it easy for you to access your medical history whenever you need it.
How to Get Started with Livi App
Getting started with Livi app is simple and easy. To begin, download the app from the App Store or Google Play Store. Next, sign up for an account and book a video appointment with a licensed doctor. Before your appointment, you'll be prompted to enter your symptoms and medical history. During your appointment, you'll have the opportunity to discuss your symptoms with the doctor and receive a diagnosis and treatment plan.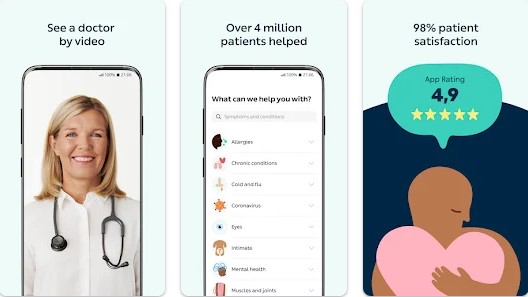 How Secure is Livi?
The security and confidentiality of your personal information and medical history is a top priority for Livi. The app uses state-of-the-art encryption to protect your information and ensures that all video consultations are private and secure. In addition, Livi complies with all relevant regulations and standards, including the General Data Protection Regulation (GDPR) and the Health Insurance Portability and Accountability Act (HIPAA).
Conclusion:
In conclusion, Livi  offers a convenient and effective solution for those in need of medical care. With the ability to receive medical attention from the comfort of your own home, flexible scheduling options, reduced costs, and easy access to medical records, Livi  is an excellent choice for anyone looking for an alternative to traditional healthcare. Get started with Livi  today and experience the benefits of telemedicine for yourself.