Skiplino app is a queue management and customer flow solution designed to improve the customer experience by reducing wait times and increasing efficiency. The Skiplino app allows customers to join virtual queues and receive real-time updates on their position in line, estimated wait times, and when it's their turn to be served. It also allows businesses to manage customer flow, track key performance indicators, and optimize staffing levels.
Queue management has always been a challenge for businesses. Long lines, frustrated customers, and inefficient processes can negatively impact the customer experience, leading to lost business and revenue. Fortunately, Skiplino has developed a solution to these problems with its innovative queue management app. In this article, we will explore the Skiplino app, its features, and how it can benefit businesses of all sizes.
What is Skiplino App?
Skiplino is a cloud-based queue management system that allows businesses to streamline their customer flow, reduce wait times, and improve the overall customer experience. The app is designed to be user-friendly and easy to set up, making it a popular choice for businesses looking to simplify their queue management process.
Features of Skiplino App
The Skiplino app comes packed with features designed to help businesses manage their queues and improve the customer experience. Some of the key features of the app include:
Digital Queuing: Customers can join a virtual queue using their smartphone, eliminating the need for physical lineups.
Real-Time Tracking: The app allows businesses to track customer wait times and service times in real-time, allowing them to make adjustments as needed.
Customizable Settings: Businesses can customize the app's settings to meet their unique needs, such as setting up specific service times, customizing the interface, and more.
Customer Feedback: The app allows customers to provide feedback on their experience, which businesses can use to improve their services.
Analytics: The app provides detailed analytics on customer traffic, wait times, and service times, helping businesses identify areas for improvement.
How Skiplino App Can Benefit Your Business
By using the Skiplino app, businesses can benefit in a variety of ways, including:
Improved Customer Experience: The app eliminates the frustration of waiting in long lines, making the overall customer experience more pleasant and efficient.
Increased Efficiency: Businesses can reduce wait times and improve the flow of customers, leading to a more efficient operation.
Customizable Settings: The app can be customized to meet the specific needs of your business, allowing you to create a unique experience for your customers.
Real-Time Tracking: The app provides real-time tracking of customer wait times, allowing businesses to make adjustments and improve service delivery.
Customer Feedback: The app allows businesses to collect valuable feedback from their customers, which can be used to improve service delivery and identify areas for improvement.
Download Skiplino App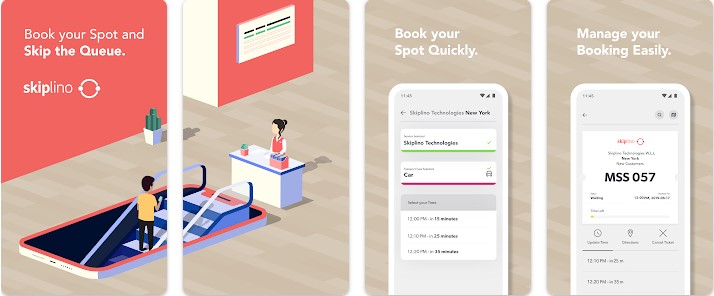 FAQs
Q: Is Skiplino easy to set up?
A: Yes, Skiplino is designed to be user-friendly and easy to set up, with no technical expertise required.
Q: Can Skiplino be customized to meet the needs of my business?
A: Yes, Skiplino can be customized to meet the specific needs of your business, with customizable settings and interface.
Q: What type of businesses can benefit from Skiplino?
A: Skiplino can benefit a wide range of businesses, including retail stores, hospitals, banks, airports, and more.
Conclusion
The Skiplino app is a powerful tool for businesses looking to streamline their queue management process and improve the customer experience. With its user-friendly interface, customizable settings, and real-time tracking, Skiplino is a popular choice for businesses of all sizes. Whether you're looking to reduce wait times, improve efficiency, or gather valuable customer feedback, Skiplino can help you achieve your goals and improve your bottom line. Try the Skiplino app today and see the difference it can