Stay Connected to European Football Anytime, Anywhere
Are you a passionate fan of European football? Do you want to stay up to date with the latest news, highlights, and exclusive content from your favorite teams and players? Look no further than the UEFA.tv app. With its user-friendly interface and a wealth of features, this app is your ultimate gateway to the exciting world of European football.
Live Matches and Highlights
With the UEFA.tv app, you can watch live matches from various UEFA competitions right on your mobile device. Whether it's the UEFA Champions League, Europa League, or European qualifiers, you'll never miss a moment of the action. In addition to live matches, the app also provides highlights, replays, and in-depth analysis, allowing you to relive the best moments and catch up on any games you may have missed.
Exclusive Content and Original Shows
Get access to exclusive content and original shows that delve deeper into the world of European football. The UEFA.tv app offers interviews, documentaries, and behind-the-scenes footage, giving you a unique perspective on the game. From in-depth player profiles to tactical analyses and historical retrospectives, there's always something exciting to explore.
News and Updates
Stay informed with the latest news and updates from European football. The UEFA.tv app provides a comprehensive news section, covering transfer rumors, injury updates, match previews, and more. With real-time notifications, you'll never miss an important development or breaking news story.
Personalized Experience
The UEFA.tv app caters to your personal preferences and interests. You can customize your feed to follow specific teams, players, or competitions, ensuring that you receive the content that matters most to you. Whether you're a die-hard fan of a particular club or you want to stay informed about multiple teams, the app delivers a tailored experience just for you.
Match Statistics and Analysis
Dive into detailed match statistics and analysis with the UEFA.tv app. Access team lineups, player stats, and tactical breakdowns to gain deeper insights into the games. Whether you're a dedicated follower of European football or a budding analyst, this feature provides valuable information for a better understanding of the sport.
Interactive Features
The UEFA.tv app offers interactive features that allow you to engage with the content and other fans. Participate in live polls, quizzes, and debates to test your football knowledge and share your opinions. Connect with fellow fans from around the world, join discussions, and be a part of the vibrant European football community.
Multi-Language Support
Language is not a barrier with the UEFA.tv app. It supports multiple languages, ensuring that fans from different parts of the world can enjoy the content in their preferred language. Whether you speak English, Spanish, French, German, or any other supported language, you can access the app and indulge in the European football experience.
Accessibility and Compatibility
The UEFA.tv app is designed to be accessible and compatible with a wide range of devices. Whether you're using an iOS or Android smartphone or tablet, you can download the app from your device's app store and start enjoying European football right away. The app's responsive design ensures a seamless experience across different screen sizes.
Join the UEFA.tv Community
Become a part of the UEFA.tv community and connect with millions of football fans from around the world. Engage in lively discussions, share your passion for the game, and celebrate the excitement of European football together. Whether you're cheering for the same team or engaging in friendly rivalries, the UEFA.tv community provides a platform for camaraderie and shared experiences.
Interact with fellow fans through comments, likes, and shares on the app's content. Join fan forums, participate in virtual watch parties, and create lasting connections with like-minded supporters. Share your match predictions, celebrate victories, and console each other during defeats. The UEFA.tv community is a place where football brings people together and creates a sense of belonging.
Download UEFA.tv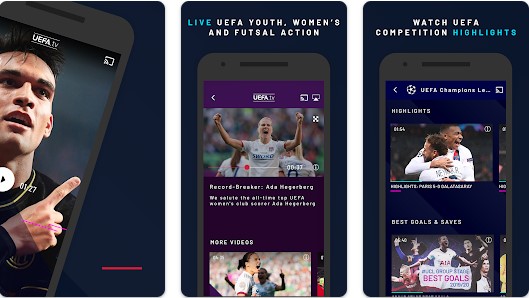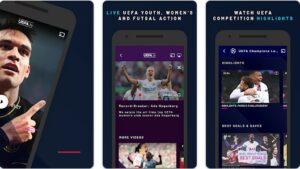 Seamless Streaming Experience
Enjoy a seamless streaming experience with the UEFA.tv app. The app is optimized to deliver high-quality video content, ensuring smooth playback even on slower internet connections. Whether you're watching live matches or catching up on highlights, you can rely on the app to provide a reliable and immersive streaming experience.
Comprehensive Archive
The UEFA.tv app provides access to a comprehensive archive of historical matches and iconic moments from European football. Relive legendary goals, unforgettable comebacks, and memorable finals from the past. The app's vast library allows you to indulge in nostalgia or discover classic matches that shaped the history of European football.
Social Sharing
Share your favorite moments, goals, and highlights with your friends and followers through social sharing features. The UEFA.tv app allows you to easily share videos, articles, and news updates on popular social media platforms, spreading the excitement of European football to your network.
Stay on Schedule with the Calendar
Never miss an important match again with the UEFA.tv app's calendar feature. The app provides a comprehensive calendar that displays upcoming fixtures, ensuring you stay informed about the matches you're interested in. Set reminders for your favorite teams' games and never be caught off guard.
Safe and Secure
Your privacy and security are paramount. The UEFA.tv app prioritizes user data protection and employs advanced security measures to safeguard your information. You can enjoy the app's features and content with peace of mind, knowing that your personal data is handled securely.
Constant Updates and Improvements
The UEFA.tv app is continuously updated and enhanced to provide the best possible user experience. The developers strive to incorporate user feedback and introduce new features, ensuring that the app evolves with the changing needs and preferences of football fans.
Free Access
One of the best things about the UEFA.tv app is that it's completely free to download and use. You can access a vast array of content, including live matches, highlights, news, and exclusive shows, without any subscription fees. Enjoy the world of European football at your fingertips, without breaking the bank.
Download the UEFA.tv App Today!
Don't miss out on the excitement and thrill of European football. Download the UEFA.tv app today and unlock a world of immersive content, live matches, exclusive shows, and personalized experiences. Whether you're a devoted fan or a casual observer, the app caters to your interests and ensures you're always connected to the pulse of European football. Join millions of fans around the globe and embark on an unforgettable journey through the beautiful game.
Compatibility with Smart TVs and Streaming Devices
Take your European football experience to the big screen with the UEFA.tv app's compatibility with smart TVs and streaming devices. Whether you have a smart TV, Apple TV, Roku, or Chromecast, you can enjoy the app's features and content on your television. Immerse yourself in the action, watch live matches, and relish the highlights on a larger display for an enhanced viewing experience.
Offline Viewing for On-the-Go Fans
For fans who are always on the move, the UEFA.tv app offers offline viewing capabilities. Download your favorite videos, highlights, and shows to your device and enjoy them later, even when you're offline. Whether you're on a long flight, commuting, or in an area with limited internet connectivity, you can still catch up on the latest European football content.
Multiple Camera Angles
Experience matches from different perspectives with the UEFA.tv app's multiple camera angles feature. Get closer to the action with different camera views, including close-ups, aerial shots, and tactical angles. Immerse yourself in the game and see every crucial moment from various vantage points.
Player Profiles and Stats
Delve into the details of your favorite players with comprehensive player profiles and statistics. Learn about their career milestones, performance metrics, and achievements. From goals and assists to disciplinary records, the app provides a wealth of information to satisfy your curiosity and admiration for European football stars.
Accessibility Features for All Fans
The UEFA.tv app is committed to providing an inclusive experience for all fans. It incorporates accessibility features to ensure that everyone, regardless of their abilities, can enjoy European football. From closed captions and audio descriptions to customizable font sizes and color contrast options, the app strives to make football content accessible to a diverse audience.
Partnerships with European Football Clubs
The UEFA.tv app has established partnerships with numerous European football clubs to bring you exclusive content and behind-the-scenes access. Dive into the world of your favorite clubs, get insider perspectives, and discover the untold stories that shape the teams you love. From pre-match rituals to post-match celebrations, the app offers an exclusive glimpse into the inner workings of European football clubs.
Enhanced Fan Engagement
The UEFA.tv app goes beyond passive viewing by fostering fan engagement. Take part in interactive features such as polls, quizzes, and challenges to test your knowledge and compete with other fans. Predict match outcomes, vote for the best goals, and engage in friendly debates. The app transforms European football into an interactive and immersive experience.
Localized Content for Regional Fans
As a global platform, the UEFA.tv app recognizes the importance of regional content. It offers localized content tailored to specific regions and languages, ensuring that fans feel connected to their local football scenes. Discover stories, interviews, and highlights from your region's teams and leagues, and celebrate the unique football culture that thrives in your area.
Discover New Talents
The UEFA.tv app is not only a platform for established stars but also a place to discover new talents. Unearth rising stars, watch their skills on display, and follow their journey to success. From young prospects to breakthrough players, the app showcases the future of European football, allowing you to be part of their development from the early stages.